I've decided to keep a written accounting of this odyssey of a breeders life. After talking with a perspective puppy buyer or someone new to purebred dog sports, they often comment, "I had no idea there was so much involved in breeding dogs!" We'll also give you a running total of the expenses we encounter to illustrate how profitable breeding a litter can be (NOT!). We hope to illustrate some of the things that sets a reputable breeder apart from the "average joe"
We tried this same breeding back in February using surgical artificial insemination. Several early morning trips to the vet for progesterone tests and $800 later, we came up empty handed and very disappointed. We decided that we would try again the next time Giddy came into season, and this time find a way to get her to Texas for a "good old fashioned" natural breeding.
July 29:
Well, always punctual Giddy, comes into season right on time. While I'm less than thrilled with the prospect of puppies in the winter and so close to the holidays to boot, Giddy's biological clock is ticking, so we set the wheels in motion. We have to decide how to get Giddy to her beau, Fred who lives in Texas with his owner, Dana Massey. Just to make things extra crazy, I'm scheduled to move in with my friend, Janine this weekend. The problem? Sky and Lucas, Janine's Siberian and English Pointer, both intact males. While each of these handsome boys have a lot to contribute to the gene pool, Giddy is already promised to another dog and she's not the type to sleep around. We're not taking any chances though, so Woody is off to Ft Collins to stay with a family friend and I'll be sleeping on the couch at my current digs until Giddy is safely delivered to Texas. The sacrifices we make for these blessed beasts!
We're not leaving anything to chance this time around so we'll start progesterone testing early next week to pinpoint her ovulation date.
August 2: Giddy's first progesterone test, includes an office visit - $80
August 4: Giddy's 2nd progesterone test - $50
August 5:
We're not having any luck finding Giddy a ride to Texas and the weather is simply too hot to ship her by plane. So, it looks like we (meaning Giddy, Mattie, and myself) will be taking a road trip to Texas this weekend. All of my "traveling friends" are unavailable this weekend, so I'll be doing the drive solo. Oh joy! Is there a better way to spend 3 days in the August? A good friend has told me, "The reward is commensurate of the amount of pain and suffering endured." This is going to be one hell of a litter!
August 7: Giddy's 3rd progesterone test - $30 office call, $40 overnight shipping, $50 lab testing.
August 8: I'm home from Texas, 3 days and 1800 miles later. In retrospect, I'm extremely glad I went. Not only did I get to spend some quality time with Fred, but I also got to see first hand, where Giddy would be staying and rest assured that she would not only be well cared for, but also be kept safe and sound. A private, air-conditioned, indoor suite with it's own private, secure, open air sun porch, and several secure acres to romp around before retiring to the "honey moon suite" to get down to the business of making puppies. No shameless tryst at the "No Tell Motel" for this bitch, no, Giddy's going to wined, dined, and romanced!
$240 gas, $110 2 nights hotel
August 9: Giddy's 4th progesterone test - $30 office call, $40 overnight shipping, $50 lab testing. Dana was gracious enough not to charge us to deliver Giddy to the vet for the blood draw.
August 10, 12, 14: Dana reports successful ties on all attempts. Giddy is settling in to the new routine and having a grand time. I miss my snuggly bed buddy! It looks like Woody may have found a new home. . . The Schneider family has fallen under his spell. I could not ask for a better home for one of my gray kids. I am elated! Mattie's wondering what's happened to all the gray dogs. . . Don't worry Mattie, you're here to stay! $1000 stud fee, $100 boarding
August 12:
Giddy's 5th progesterone test, just to be sure that she did actually ovulate - $30 office call, $40 overnight shipping, $50 lab testing. Dana was gracious enough not to charge us to deliver Giddy to the vet for the blood draw.
August 19:
We're heading to Kansas City this weekend where Dana's going to meet us to return Giddy. While we're all there, we'll be competing at a dog show and Weimaraner Specialty. Dana was already attending the dog show, so she didn't charge us to bring Giddy. Our main deciding factor in attending the dog show was the fact that we were going to be there to get Giddy anyway so we'll add the cost of the gas - $140 and 1 night hotel - $70.
August 20:
Giddy looks GREAT! She even managed a Best of Opposite Sex win at the dog show! One of Fred's sons wins the Specialty and another goes WD, BOW to finish his championship. Both are handsome young dogs!
August 23:
I don't know if it's a sign that she's pregnant, but she seems to have filled out in all the right places and looks really good! She's acting like she's starving, this morning she tried to steal toast right out of my hand!
September 7:
Always svelte and slender Giddy is quickly losing her girlish figure. "Auntie Janine" has taken to calling her "tubular" and "Miss Fatty Pants" due to the fact that she no longer a waistline. Sept 13 – target date for the ultrasound to confirm the pregnancy. Fingers crossed!
September 13:
Pregnancy confirmed!!! We have puppies on the way! Yippee!!! Now taking applications for both competition and companion homes. Click on the Puppy Questionaire link on the Whelping Box page. $65 ultrasound
Running Total = $3015.
Wait! There's more! Here's some things that we paid for earlier:
Hip and Elbow Xrays - $135
OFA Certification – $35
Thyroid testing - $115
Eye exam - $30
CERF - $35
Dog show entry fees - approx $800
Dog show travel expenses - $??? in the last year alone we've traveled to California, New Mexico, Nebraska, and Kansas.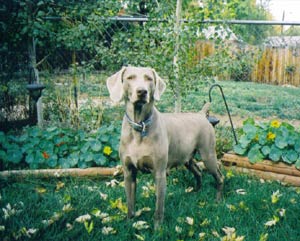 October 7, 2004
We're in the home stretch now. Giddy has traded her girlish figure for that of a mother. Despite the extra pounds, she's looking radiant. Excitement is building as we can feel the little critters moving around in there. Giddy is spending her time lounging around looking pitiful - "Do I look fat?" "Are you SURE we already had dinner?!" Me, I've gone into "nesting" mode, cleaning and organizing like a banshee, collecting supplies, reviewing applications, and trying to get the house ready for the coming invasion. Not helping my stress level this week, was the clogged drain leading to a flood in the laundry room. I wasn't planning on introducing the puppies to water until the 6th week. . . . We have a plumber scheduled for tomorrow and he will hopefully rectify the problem quickly and without too much damage to the already bruised pocketbook.
We picked up the WhelpWise (www.whelpwise.com) equipment today and we were able to locate several of the puppies heartbeats with the Doppler. Thunkathunkathunka. All the heartbeats were strong and steady. Tomorrow, we will start monitoring uterine contractions twice a day to pinpoint when the whelping process will start. This will save us from turning into a nervous wreck, staring at the poor bitch anxiously waiting for any sign of contractions, and minimize the amount of time off from work. It will also tell us if anything is out of the ordinary, necessitating intervention.
Whelpwise Rental - $360
Emergency Meds - $50
Misc whelping supplies $250
Running Total = $3675
October 9:
We've been monitoring Giddy's uterine contractions for a couple days now. She's having 1-2 small contractions per hour. This is the beginning stages of labor, shouldn't be long now!
October 10:
Giddy caused a bit of a panic today. The monitor picked up some big contractions that were lasting a long time. The reason we panicked was because we didn't have the whelping room together yet. My plan for a new whelping box went out the door around 5pm and we quickly pulled the old whelping box out of the garage and set it up. By 10pm we were organized and ready for puppies.
October 11:
False Alarm! Giddy's back down to 1-2 mild contractions per hour. Guess I'm off to work today.
October 13:
Went to work again yesterday. Our late night session picked up a few more contractions, so we were told to monitor around 4 am to see if we were on track. That showed that Giddy was in labor - FINALLY! I called in to work and hopped in the shower, I likely would not get another chance today. By the time I was showered and dressed, Giddy was beginning to have some strong contractions. The first puppy, a girl, arrived around 10:30am. Subsequent contractions produced no puppies and after a few hours the Whelpwise data indicated that a puppy was stuck and the technician told us we should head to the vet. The remaining pups were delivered by C-Section
What an emotional rollercoaster the day has been. From the elation of bringing a new life in the world, feel its tiny heart beating in your hands and see it take its first breath, to the sickening fear of that you may lose a precious friend and loyal companion. We were in good hands and Giddy came through the surgery and began attending to her brood as soon as the anesthesia wore off. I slept next to the whelping box and woke to the puppies contentedly nursing. Giddy is proving to be an excellent mother.
Cost of C-Section - $600
Saving Giddy's life - PRICELESS
Running Total = $4275
October 14:
First image of the newborns! They weighed 9 and 13 oz.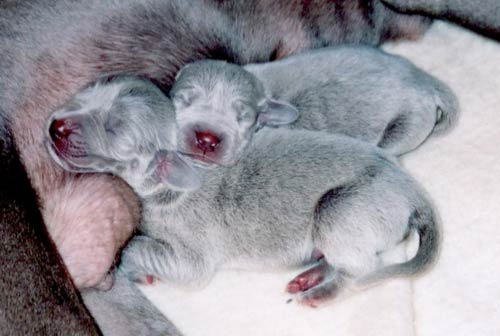 October 16:
Giddy is doing really, really well. You would not believe that she just had major surgery; she acts like just another day. She is a wonderful mother and is extremely protective of her brood. She's won't leave the whelping box except to eat and go potty and even then, needs some convincing. We're going to wait a couple more days to do tails and dewclaws, we'd like the pups to all be close to a pound and we'd rather not stress Giddy out by separating her from the pups right now.

Learning to Spoon


Wedgie!

Cuddle Bugs!
October 18:
The puppies had their tails docked and dewclaws removed today. I think it was more traumatic for me than it was for them! They were asleep before we left the vet's office. Mama Giddy was not happy about getting her babies back in different condition than they were taken, but the puppies appear to have forgotten all about it, they're back to contentedly nursing.
October 20:
Well we've made it through the critical first week of life and the puppies have nearly doubled in weight, a great sign!
| | |
| --- | --- |
| Proud Momma. | Mothering is hard work. |
| | |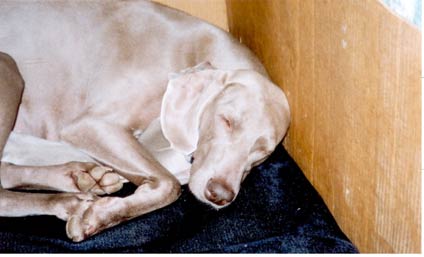 Snug as a bug in the ear...
October 26:
We finished up the "Super Dog" exercises today. These are a set of exercises designed to neurologically stimulate the puppies during the time period before their eyes and ears open. The program was developed by the US Military and the research was published by Dr. Carmen Battaglia, AKC Judge and Advocate, and German Shepard breeder. You can read more about this fascinating program at www.breedingbetterdogs.com or download the PDF here.
October 27:
WOW! I can't believe that the puppies are TWO WEEKS OLD today! They are turning into pudgy little piglets! The "little" girl is leading the pack, weighing in at a whopping THREE pounds! I suspect they will even out when they begin to eat solid food. The girl opened her eyes yesterday and took her first peek at the world. Their development is such an amazing wonder to watch!
Giddy is still very protective of the puppies, not allowing the other dogs to get too close. She is beginning to spend more time outside of the whelping area, getting some fresh air and exercise, but she is still the sole source of nourishment for the puppies.
November 3:
Gosh another week gone by! Watching puppies grow up is much like watching a butterfly emerge from its cocoon. One day they are fuzzy little baked potatoes and the next they are genuine little doggies! Bright eyed little toddlers exploring their new environment. Growling, chewing, learning to play. It's truly evolution happening right before your very eyes.
Giddy is a devoted mother, she continues to dote on her babies. (thankfully!) She is still just radiant. Her coat is full and shiny, she's physically fit with the exception of her swollen bosom, and she has a contentedness that I've never seen in her before. It's times like this that I marvel at the wonderful creatures sharing my life. We've begun to bring the puppies out to "watch TV" and get them used to being handled. I promise to take more pictures soon.
November 4:
Ouch! They have TEETH!!!!

November 6:
The puppies had their first taste of real food today. They got the hang of it pretty quick, after they figured out that you're supposed to EAT it, not STEP in it. . . It was a unanimous TAILS UP! YUMMM!
November 7:
Today the puppies had their first outdoor field trip. This introduced them to several new surfaces, including concrete, grass and dirt. They took the new experience right in stride.
Nov 10
Four Weeks Old! The puppies are now eating and pooping machines. They are getting 4 small meals a day, specially prepared by Chef Christine. Giddy is pitching in and helping wash the dishes and clean the kids up after they eat. What a great helper she is! The puppies are having a hard time understanding why the 24 hour milk bar now suddenly has very
limited hours and can close at the drop of a hat. . . And the "bartender" can be down right surly at times. "Geez! We just wanted some milk, you don't have to bite our heads off!" Time to teach these puppies some manners. . .
November 13
THE PUPPIES HAVE ESCAPED!!!
I woke this morning to find "Piglet" and "Peanut" outside the whelping box. Made a few adjustments to the shallow side of the box, but Piglet found she could still make it over the wall anyway. She escaped from the box5 times this weekend! More than any litter we've had, these puppies do not like being confined. Most of the time the puppies are content with their immediate surroundings and gradually begin to explore their surrounds. Not these pups! Turn them loose and they are off to explore and investigate. They are very independent and inquisitive. I think these little guys are going be a handful!
| | | |
| --- | --- | --- |
| Bath Time | Be My Pillow | Boy Cuddle |
| Girl w/horns | Puppy Hug | Puppy Pillow |
November 14:
Giddy has developed a mild case of mastitis, an infection of the milk ducts. This sometimes happens during the weaning process when the puppies are not draining the milk from the breast and it gets thicker and clogs the milk ducts. We're off to the vet for antibiotics in the morning. Raising puppies is not all fun and games!
November 16:
A couple days on antibiotics and Giddy's feeling better already, and drying up. She'll be back to her svelte figure in no time at all! The puppies slept through the night for the first time. . . At least we think they did. . . Could be that we're just so tired we didn't hear them ;o)
November 20:
We had visitors today! Thanks to Shonnie, Brtittney, and Amanda for giving the puppies the special kind of lovin only little girls can give! The puppies soaked up all the attention and were very generous with the kisses. It was a very busy day!
| | | |
| --- | --- | --- |
| Confined! | Let Us Out!!! | Dog Pile |
| Mandy | Shonnie | Brittney |
November 21:
Christine trips over the puppy pen and comes crashing down on her knee, OUCH! Bad bad Christine! Must have TWO working legs to chase after puppies!
November 23:
Well I'm still limping, but after a trip to the doctor, determined that no serious damage was done. We're transitioning the puppies over to 3 meals a day and we're not pureeing the dog food for them anymore, so that when they are ready to go to their new homes, they will be eating breakfast in the morning, dinner in the evening, and a small snack before bed time. We feed our adult dogs twice a day as we feel it is optimal for digestion and keeping them on an even keel.
November 24:
Giddy's expert counter-surfing netted her a cheese cake. A WHOLE CHEESE CAKE. One of Janine's homemade, extra tasty, cheese cakes that was destined for the Thanksgiving dinner table. . . . The only just part of it was that she was pretty miserable the rest of the day. NO turkey leftovers for you, Giddy!
November 27:
The puppies had their first introduction to water today. We combined it with a bath. Well, they didn't spring gills, but overall they did pretty well. We'll try it again in a few days with a bit less water in the tub. They did enjoy the extra attention they got getting them dry and warm again though.
| | | |
| --- | --- | --- |
| | | |
| Rock-a-bye Puppy. | Recharging batteries. | Dog tired. |
November 28:
It's SNOWING! We had a fine dusting of snow that continued all day long, accumulating about 6 inches by evening. We took the puppies out several times through out the day for short trips to test their hardiness. Our little explorers trudged through chest high snow drifts without the slightest complaint. We humans actually got cold faster than they did! We're really thrilled with these puppies, they've got awesome temperaments and loads of personality. They are independent, inquisitive, and confident in nature, and sweet, affectionate and cuddly.
They got their first parvo vaccination today and we'll worm them again in a couple days. They're weighing in at about 10# each.
December 6:
Well it's been a busy week and time flies when you're getting puppies ready to begin their new lives in the real world. On schedule last week:
Crate Training 101 - This class teaches the puppy to accept a crate as his own personal safe haven away from the busy world. Once the puppy is choosing to spend time in the crate of his own accord, we begin closing the door for short periods of time. The puppy must be quiet before it is allowed out of the crate.
Intro to Leash - In this class we take 2 puppies of similar weight and strength and attach then together with a 12 inch cord. They learn not to associate the pull on their collar with us humans, and to yield to the pull of the leash.
Winter Fun, An Introduction to Snow - This class is taught by our resident Siberian, Sky. Being a Siberian, he is an expert on outdoor winter activities. This class includes: Identifying plants in their dormant state. How to determine if snow is safe to eat. (Formerly called: Beware Yellow Snow.) Class also includes instruction on the proper way to use a doggie door to come in from out of the cold.
Stairs 101 and 102 - This 2 part class teaches the safe navigation of stairs, both up and down.
Intro to Birds, Wake Up Your Natural Instincts - This class is on hold until we can locate some pigeons or quail, or at the very least some wings.
Show Doggin 101, From Whelping Box to Best of Breed - The basics of Show Doggin; Stacking, Baiting, Hands on Evaluations, and Picture Taking are covered in this fun class for future show stoppers.
Housebreaking 101, Save It For The Yard! - This class begins before dawn with a wakeup call and the young ones are quickly herded outside to potty. The class continues all day, with periodic "fire drills" after meals and playtime sessions.