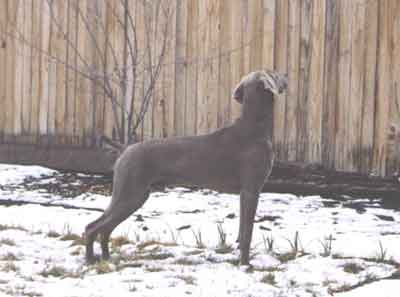 The Dam is just one part of the foundation of a breeding program.In order to maintain balance, you need to find Sires who will not only compliment her, but strengthen her weaknesses.We found that balance at the world famous Nani Weimaraners owned by Chris and Ted Grissel in Indiana..Nani's have been producing top Weimaraners for over 30 years, this is just the substance, stability, and strength that a young breeding program needs to get off the ground.To this end we chose 2 of Nani's dogs to become part of Cheyenne's foundation. As a young breeder, I feel privileged to be able to fast-forward my breeding program with the additions of Maestro and Aleck and the help and support of Chris and Ted.
Moving forward we've joined forces with another top breeder - Win' Weimaraners and Dana Massey of Texas.Like Nani's, Win'Weim consistently has dogs in the Top 10.We feel confident that this will give us a solid foundation to build a reputation for breeding beautiful, versatile, healthy Weimaraners.
Maestro | Aleck | Fred | Reko | Paparazzi | Goose
---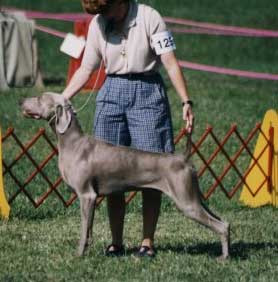 Maestro
BISS Ch. Nani's Concert Master BROM SH
Sire: Ch. Baht N Greywind Playin the Game, NSD, BROM
Dam: Ch. Nani's Perfect Cadence, JH, BROM
DOB: 10/14/94
Height: 26 inches
Weight: 78lbs
Hips: OFA Excellent
Bred to Mattie - Litter whelped November 11, 1998
Maestro is just what I think a Weimaraner male should be - unmistakably male yet still very elegant and statuesque. Maestro is also an avid hunter, achieving his Senior Hunter title by the age of three, all owner trained and handled by Chris who is a professional show handler! He also has a brother who earned his Master Hunter title at the age of three - no small feat, even for dogs with Field Champion lineage.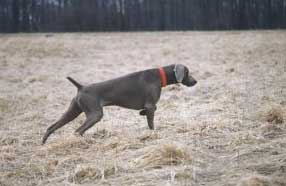 Another reason for choosing Maestro was that he was already a proven producer. He achieved the title of BROM (Bench Register of Merit) a designation earned by the merits of the dog's offspring, at the age of four. He was the nations TOP Producing Sire of 1999. He has produced a Top 5, a Best in Show Winner as well as many champions and group placing sons and daughters, and has offspring doing well in Hunting events as well. Chris will tell you that Maestro is the smartest Weim she has ever been around, and his kids are no dummies either!
With our Maestro litter, we got a fairly wide range of conformation types - to be expected with this type of outcross breeding. We did get a fair amount consistency in the height of these pups, which tended toward the mid to top end of the standard. Our girls range from 24.5 to 25.25 inches at the withers and range in substance from very feminine (Abbey) to fairly substantial (Haily). The boys ranged from 25.5 to an unverified 27.5 inches (he is in California) and all had nice, moderate substance for their heights. They are all nicely balanced and move with good reach and drive. What all these youngsters seemed to have inherited, was the combined, devilish intelligence of their parents, and an aptitude toward problem solving. They certainly keep life interesting!
Maestro X Mattie 1998 litter
---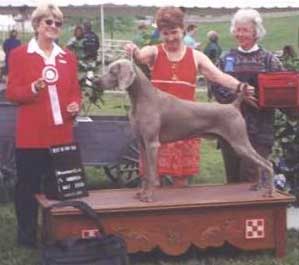 Aleck
BIS, BISS Ch. Nani's Smart Aleck BROM JH, NRD
Sire: Ch. Midnite Magic Von Holly Haus
Dam: Ch Nani's Knocker JH, CGC
DOB: 6/28/97
Height: 26 inches
Weight: 78lbs
Hips: OFA Excellent
Bred to Mattie - Litter Whelped July 17, 2000
Aleck's Pedigree
In a way, I kind of stumbled upon Aleck. I was so pleased with my first litter of Nani sired puppies that I asked Chris to suggest another stud for my next litter. Her newest and brightest star was a young dog named Aleck out of a repeat breeding she had done. And while I was a bit hesitant about using such a young dog, I decided to trust Chris and take a leap of faith. It was really Aleck's personality that I was after, while Maestro is super smart and serious, Aleck is outgoing, adventurous and a clown. He does share Maestro's aptitude for hunting, and is working on his Senior Hunter title. Aleck is the type of dog you immediately like. He is outgoing and friendly and you're sure to have fun around him. He is moderate in size and angulation, He has substance yet also has elegance. His face is very expressive and he has personality and attitude to spare. We are very excited about Aleck being part of our breeding program!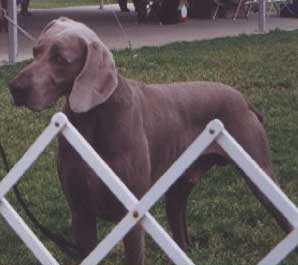 By the tender age of 3, Aleck already had quite a string of accomplishments..... Best in Show Best in Specialty Show, 1999 Top Ten, Winner of WCA's 2000 Top 20 Invitational, Best Opposite Sex at the 2000 National, Top Producing Sire 2002 not to mention many group placements, field trial placements, and earning his Junior Hunter title and Novice Retrieving Dog rating. He has produced Top Ten Champion offspring, BISS Winners and even a Best in Sweeps at the 2001 National Specialty!
We were pleasantly surprised with the amount of consistency we got with Aleck litter. Six of the eight pups were like peas in a pod, the resemblances striking. As another Weimaraner breeder remarked about Woody and Giddy - "They are male and female, yet they are the same dog." They are moderate in size, moderate in substance, moderate in angulation. Balanced, elegant, striking. Our Aleck pups are more laid back and easy going than some of their Maestro counterparts, and slightly less neurotic.
We are truly excited to see the impact that Aleck has had on our breeding program. It looks like our "leap of faith" may have just been a "quantum leap" instead!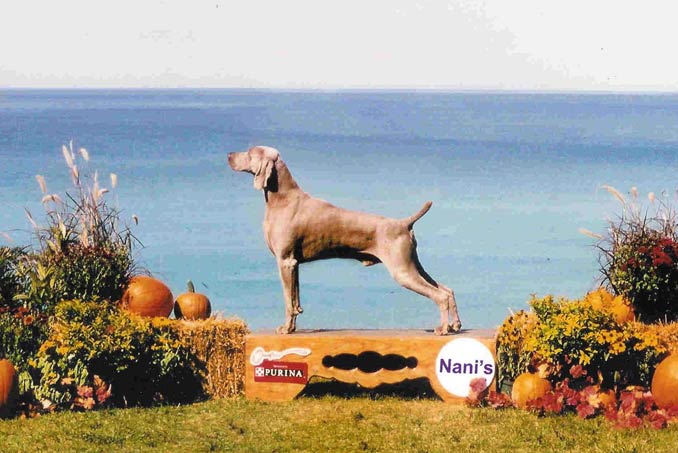 Even at 7 years old, he still excites us!
Aleck X Mattie 2000 Litter
Giddy | Woody | Pawnee | Faith
---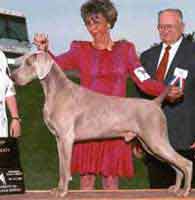 Fred –
BISS Am/Can CH BiSS Ashmore Win Weim Royal Flush JH, BROM
Sire: CH. BISS Nani's Concert Master SH, BROM
Dam: Ch Colsidex th Farms Reflection
DOB:
Height: 26 inches
Weight: 75lbs
Hips: OFAExcellent
Eyes:CERFThyroid:Normal
WCA Top Producing Sire 2004
Pedigree Link
Bred to Giddy -Litter Whelped October 13, 2004
After considering several sires to breed to Giddy, we chose Fred, a dog who is already a proven producer of outstanding offspring. Selectively bred, he has already produced 28 Champions, and was the Weimaraner Club of America's Top Producing Sire for 2004. We chose Fred for his ability to throw lovely front and shoulder assemblies, beautiful heads and balanced offspring with moderate size, substance and bone.He is known for having a wonderful disposition and has been able to pass that on to his offspring. We were pleased with his offspring that we had seen in person and the breeders we talked to had nothing but praise for his contribution to their breeding programs. We were confident that by breeding Giddy to Fred, we would retain all the wonderful things we love about Giddy, while making the improvements were shooting for. Secondly, Fred is a Maestro on. We were very happy with many of the qualities of our Maestro X Mattie puppies, so we are excited to tie that back into the mix. Fred has a great deal of natural ability in the field and is currently working at a Senior Hunter level. We felt strongly that the combination would produce versatile dogs. Looking forward, there are excellent dogs in Fred's pedigree on his mother's side as well, that will blend nicely with some of the exciting young dogs we're keeping an eye on for future breeding prospects. We attempted the breeding via Artificial Insemination in the Spring of 2004, and much to our disappointment, it was unsuccessful.We tried again in the Fall of 2004 and ended up with only 2 puppies due to some complications of whelping.Both puppies have wonderful, sweet temperaments and true movement.To our delight, the little bitch was very close to what we were hoping for and we are anxiously waiting to see how she turns out.
We feel confident in Fred's ability as a producer and we foresee coming back to him or his sons in the future.
Fred in brief:
Champion at 10 months, completely owner handled.
Ranked as high as No. 5 in Group Competition
Group Winner
Best in Specialty Show Winner
BROM at 3 years old
Sire of 50 AKC Champions and numerous other major ptd/ptd get
Sire of 3 of the Top 20 Weims in 2003
Sire of 2 Top 10 dogs, ranked as high as #5 and #6.
Sire of Best in Show, multiple Group Winning, Group Placing, and Best in Specialty Show Winning get.
Weimaraner Club of America Top Producing Sire 2004
| | | |
| --- | --- | --- |
| A young Fred wins a Sweepstakes. | Fred preactices being a special | Handsome boy! |
A look at the past and the future. I took the pictures below at the 2000 WCA National Specialty. In the background is Aleck, sire of our 2000 litter, handled by Chris Grisell. In the foreground is a young Fred, handled by Chris' husband, Ted Grissell. Imagine my delight in having "rediscovered" these photos, now part of Cheyenne Weimaraner history!
Fred X Giddy 2004 Litter
---
Reko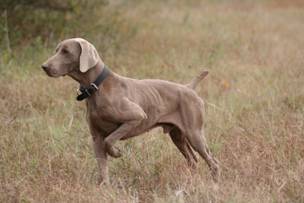 FC, AFC Davison's Orion on the Rise MH
Sire: FC/NFC Robynski Deaugh Davison, JH
Dam: DC Wynwood's Rain On the Rise, SDX, NRD, VX
AKC Reg #: SN442410/02
DOB: 5/07/97
Height: 25 inches
Weight: 70lbs
Hips: OFAGood
Bred to Sparky - Litter whelped 6/29/2007

Our fondness of Reko began with his Dam, DC Wynwood's Rain on the Rise, aka Rainy.Whether in the ring or in the field, Rainy demanded your attention.Presence, style, athleticism…Meanwhile, his sire, Robi, wowwed us in the field with his never ending drive and desire.Reko is a wonderful blending of his sire and dam, I believe, the best of both.Seeing him mature from an exuberant puppy into a National caliber Field Dog has been nothing short of exciting.
Praised for his keen ability to find birds, his biddability, and STYLE on point.
Reko's record speaks for itself.
Field Champion (28 points)
Amateur Field Champion (20 points)
Master Hunter (SIX qualifying scores)
61 placements in BROKE Dog stakes in 6 years
11 FIRSTS
15 Seconds
16 placements in WCA Events
21 placements in Limited stakes
2nd in the 2002 WCA National Championship
3rd in the 2005 WCA National Amateur Championship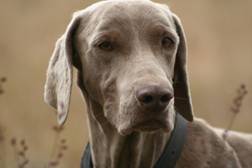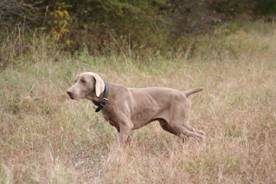 Reko X Sparky 2007 Litter
True | Koda | Faith | Beta | Starbuck
---
Paparazzi
Ch. Win'Weim N Nani Paparazzi

Sire: National Ch. Nani's Indcent Exposure, JH
Dam: BISS Ch. Nani's Shutterbug
AKC Reg#: SR198182/01
DOB: 7/11/2004
Height: 27 inches
Weight: 80lbs
Hips: OFAGood

Bred to Sparky - Litter Whelped 6/13/2009
Well what would you expect from a dog who's father had a penchant for taking off his clothes (Streak) and a mother who was a photographer (Click)?! Papa is a Futurity and Maturity winner, Specialty winner, Best of Oppisite at both the WCA National Specialty and Eukanuba. , Two time BOS at Westminister. He was the #1 Weimaraner male in America for 2nd years.
This was a nice line breeding on Sparky's sire, Fred, who is also Papa's grandsire. Papa is known for his unflappable, bullet proof temperament. This was a dynamite combination that produced puppies with outstanding conformation and personalities!
For more information about Paparazzi, visit his website - http://www.paparazzi-weim.com/
Paparazzi X Sparky
Race | Patience | Tucker | Riley | Lucy | Kiesel
---
Goose
Ch. Win'Weim It's My Grey Goose
OFA Excelent
AKC Reg#: SR42607802 DOB: 5/25/2007
Height: 27" Weight: 85#

Bred to Sparky - Litter Whelped 2/19/2010
Bred to True - Litter due 4/2011

We met Goose spring we were in Texas to breed to Paparazzi. I can remember thinking that if this litter to Papa turned out as nice as we thought it would, Goose might be a good candidate for Sparky's next litter. Goose, like Paparazzi, is also a Streak son. His mother is a Fred daughter as well. With 3/4 the same pedigree, we're anticipating another fabulous litter!

We've long been a fan of Goose's mother Dagmar, one of the most beautiful Weimaraner bitches we've had the pleasure to meet. No doubt Goose is her son, with the same striking headpiece and ring presence, he has multiple group placements with limited showing due to his sister Olive hogging the spotlight. She is a Best in Show, Top 5 Weim who has won at Westminister, following in her mother's paw steps. Both Goose and Olive are Maturity winners.

Goose has been throwing lovely puppies with outstanding temperaments and we've been thrilled with the puppies he sired with Sparky.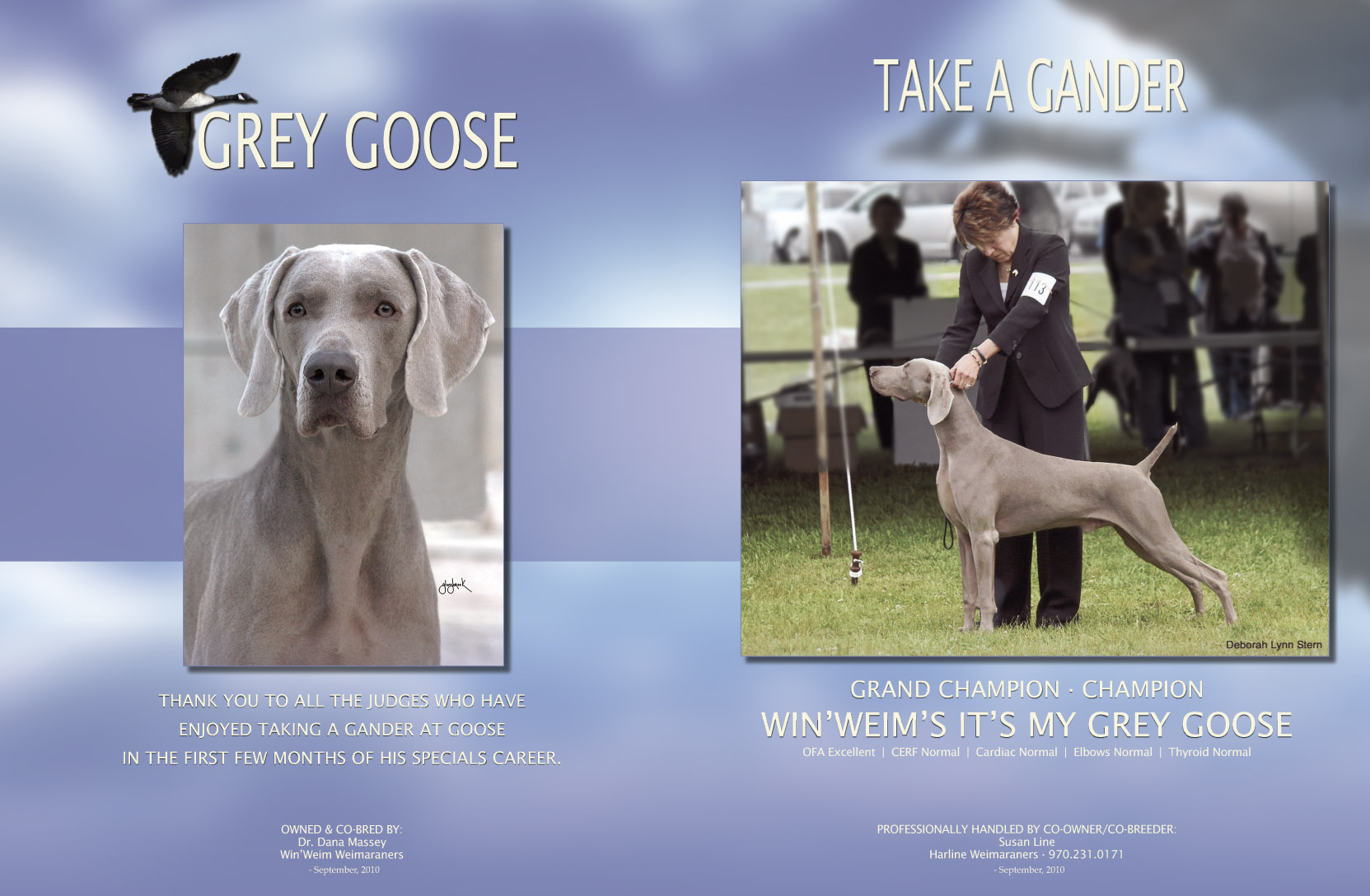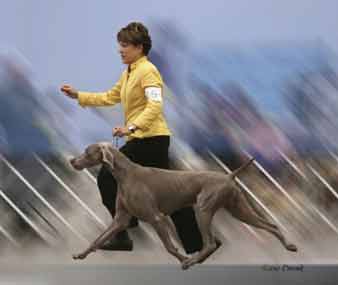 | | |
| --- | --- |
| Winning the Sporting Group! | Winning Best in Maturity! |